Imagine, in America of 2009, the formation of a lobby dedicated to, as one of its principal goals, convincing all African Americans to move "back" to Africa - a continent they weren't born on and which most of them had never even set foot upon.

Imagine, further, that leaders of this lobby publicly praised African-American cultural and racial identity but also promoted, in sermons and writing, many of the worst anti-black accusations and slurs known to history.

Imagine those leaders taught that if African Americans don't willingly "go back" to Africa, God will rise up an army to slaughter all African Americans so stubborn as to remain in the land of their birth, as American citizens.

Take out "African-American" and replace it with "Jewish-American", change "Africa" to "Israel," and the description fits an existing, national lobbying group - Christians United For Israel.

Today, Sunday October 25th, Nobel Laureate and Holocaust survivor Elie Wiesel will deliver a keynote address at the home church of CUFI's founder, San Antonio pastor John Hagee.
It's been little more than a year and a half since I posted a short YouTube video, featuring an excerpt from a sermon by Texas megachurch pastor John Hagee, that led presidential candidate John McCain to renounce his long-sought political endorsement from Hagee. In the sermon excerpt I used, Hagee declares "...then God sent a hunter. A hunter is someone with a gun, and he forces you. Hitler was a hunter."
In June 2008, Hagee sent a mendacious letter of apology (duly accepted) to Abraham Foxman and the ADL, in which Hagee 'apologized' for statements he'd made in a sermon given in 1999: wrong year, wrong sermon.
When I was able to obtain actual video of the sermon, which John Hagee gave in late 2005, I was astounded to see Hagee, up onstage before thousands at his San Antonio church, pantomiming a Nazi "hunter" aiming a rifle at Jews. It was horrific.
[below: in late 2005 sermon, Christians United For Israel founder John Hagee pantomimes a Nazi aiming a rifle at Jews.]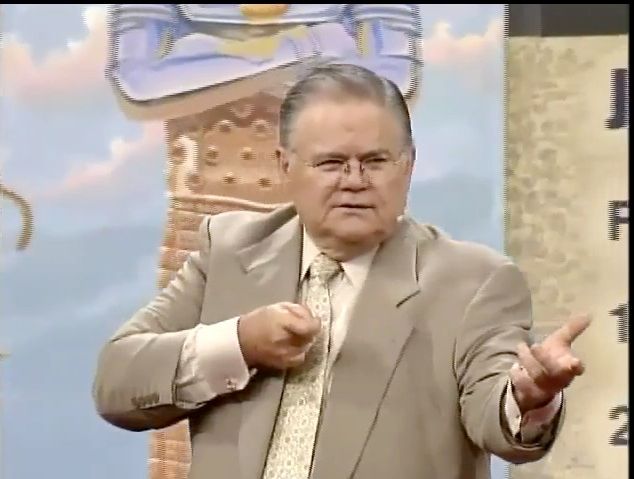 Today, four years later, Elie Wiesel will share that same stage with Pastor Hagee and give the keystone speech for one of John Hagee's "A Night To Honor Israel" events. My research colleague Rachel Tabachnick and I have written an Open Letter to Elie Wiesel, which we have posted on the Internet and also sent to Mr. Wiesel's foundation, urging him to reconsider his support for John Hagee and his fellow Christian Zionists.
Why does this matter to US and world politics ? Well, John Hagee enthusiastically backed the 2003 US invasion of Iraq and has long advocated a joint United States/Israeli attack on Iran. Hagee and his Christian Zionists constitute the biggest and most enthusiastic pro-Middle East war lobby in America. As The Weekly Standard explicitly notes, the Hagee event that Elie Wiesel will speak at today just so happens to coincide with the inaugural conference of the new, liberal, pro-Israel, pro-peace lobbying group J Street that was created as a counter to the right-leaning AIPAC lobby which, some argue, does not represent the political outlook of most American Jews.

Weeks ago Michael Goldfarb's Weekly Standard, and other rightwing and Christian media, launched a blitz to try and discredit J Street and scare Congress members from attending the event, which has racked up an impressive list of attendees including Barack Obama's national security adviser.
The close alliance between the Israeli right, especially the Likud Party, and the American Christian right traces back, at least, to Menachem Begin's successful 1980 courtship of Jerry Falwell, which included giving the late Moral Majority co-founder a private jet plane. Falwell once incurred the wrath of Abe Foxman and the ADL by proclaiming that the anti-christ would be Jewish. As described in the Open Letter to Elie Wiesel, Texas megachurch pastor John Hagee, and his fellow Christian Zionist leaders, have written and said worse.
Elie Wiesel has chosen to ally himself with an organization, Christians United For Israel who leaders have predicted "another Holocaust" (George Morrison) and that "millions of Jews will be slaughtered" in the end-time (Jerry Falwell) and whose founder John Hagee teaches that Jews have souls different from those of gentiles and that God will soon launch a brutal campaign of ethnic cleansing because of a divine mandate that Jews must live in Israel and nowhere else. That is the essence of theological racism.
We can only hope that Wiesel will reconsider his decision to attend John Hagee's CUFI events.
Here is an excerpt from Rachel Tabachnick's and my Open Letter To Elie Wiesel
John Hagee's attacks on Judaism are well documented and have included calling Hillel an extremist whose followers incited both the killing of Jesus and centuries of anti-Semitism. From the pulpit Hagee has claimed that the anti-Christ is "partially Jewish, as was Adolf Hitler."

Hagee also preaches that European-based Rothschilds control the US economy, through the Federal Reserve, and conspire to attack the American middle class by devaluing the dollar. According to the ADL, this class of Federal Reserve conspiracy theory, which names Rothschilds, is a "classic anti-Semitic myth." ADL traces it to Christian Identity, one of the most overtly anti-Semitic sectors of American society but one which uses "Hebrew" symbols and Christianized version of Jewish holidays because, according to Identity theology, Christians, not Jews, are the "true Israelites."

Christian Identity's roots are based a millennial movement that was "philo-Semitic," but which in the early 20th century rejected Jews as impostors descended from Esau and the Edomites. This narrative can still be seen throughout Identity media. In his 2006 book Jerusalem Countdown, Hagee promotes a similar theological claim, that a lineage of "half-breed Jews," descended from Esau and which included Adolf Hitler, have persecuted full-blooded Jews throughout history. Hagee writes that God intends to exterminate that "half-breed Jew" line.

Christian Identity's overt anti-Semitism has very limited appeal and reach. Cloaked in the guise of "love" for Jews and Israel, John Hagee's conspiracy theories and theological racism can be consumed without guilt by listeners in the 190 nations Hagee claims to reach through Christian television and radio broadcast networks.